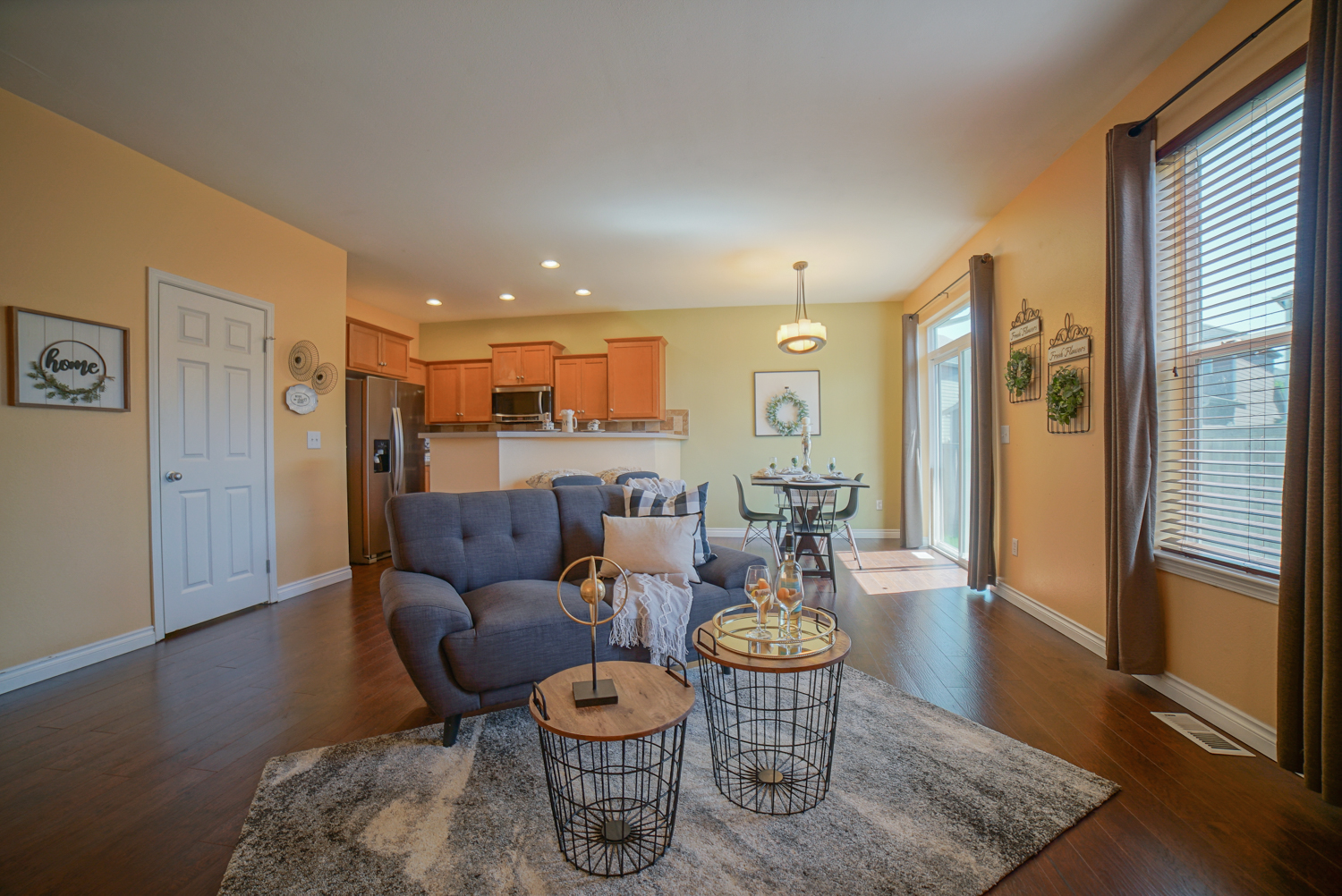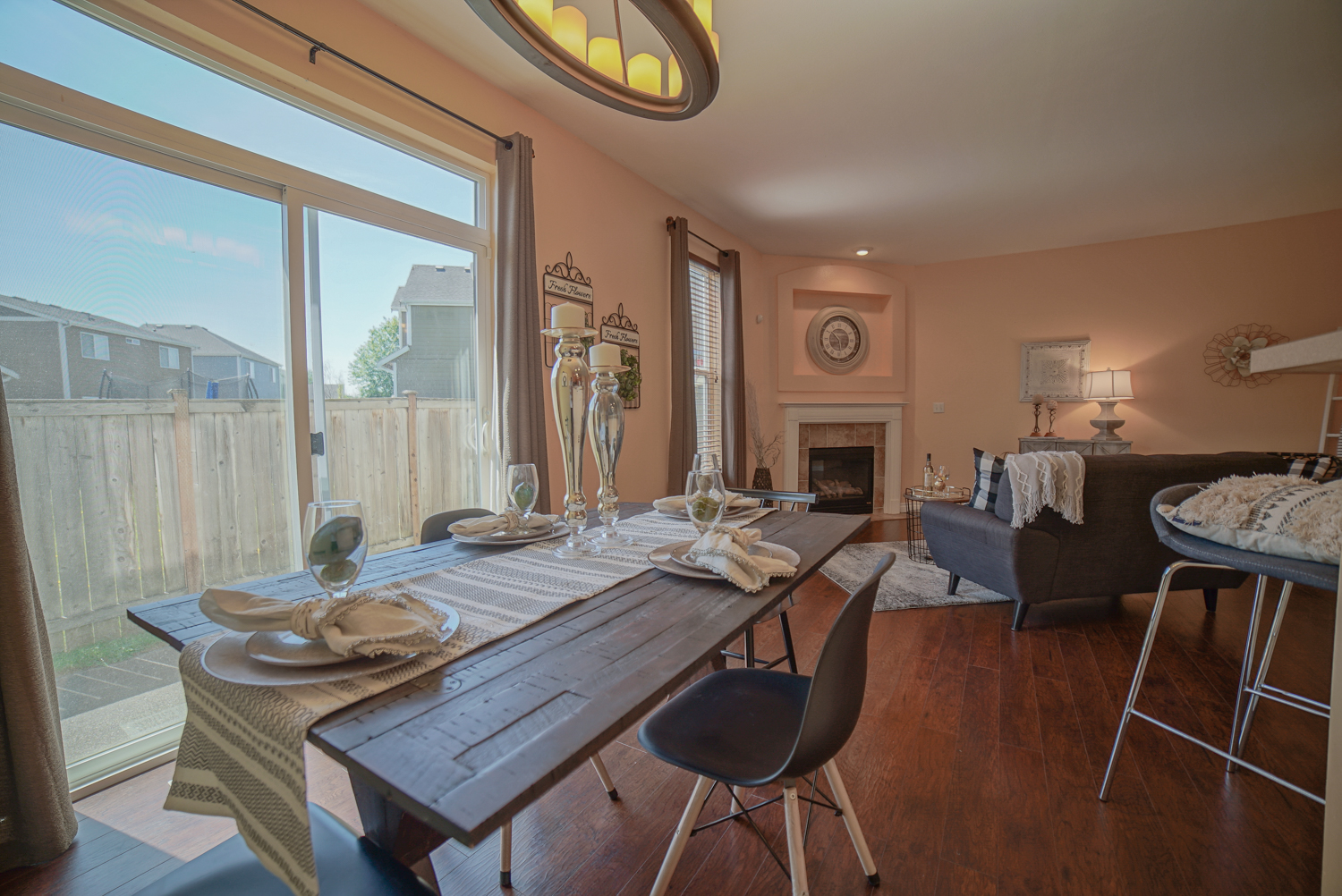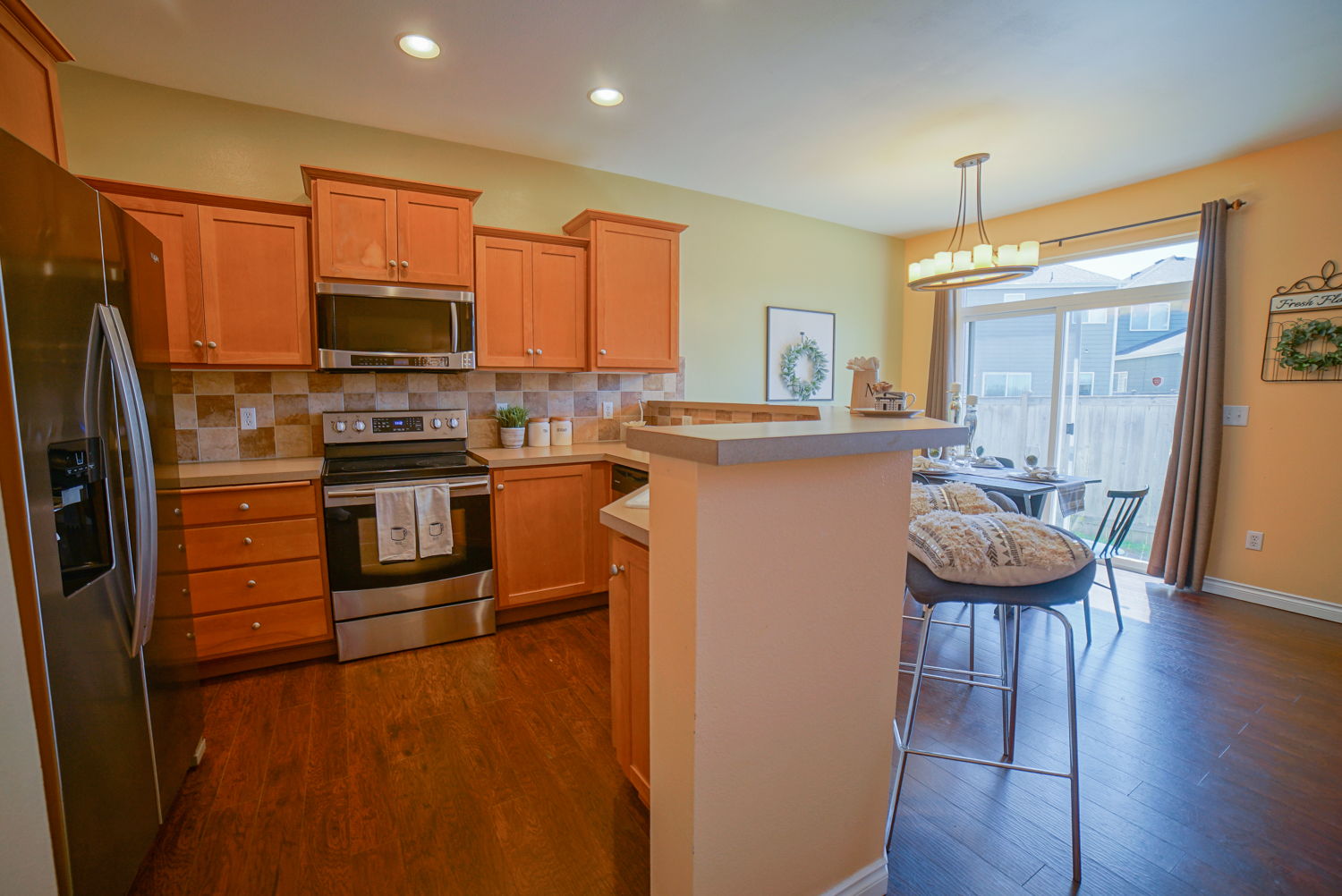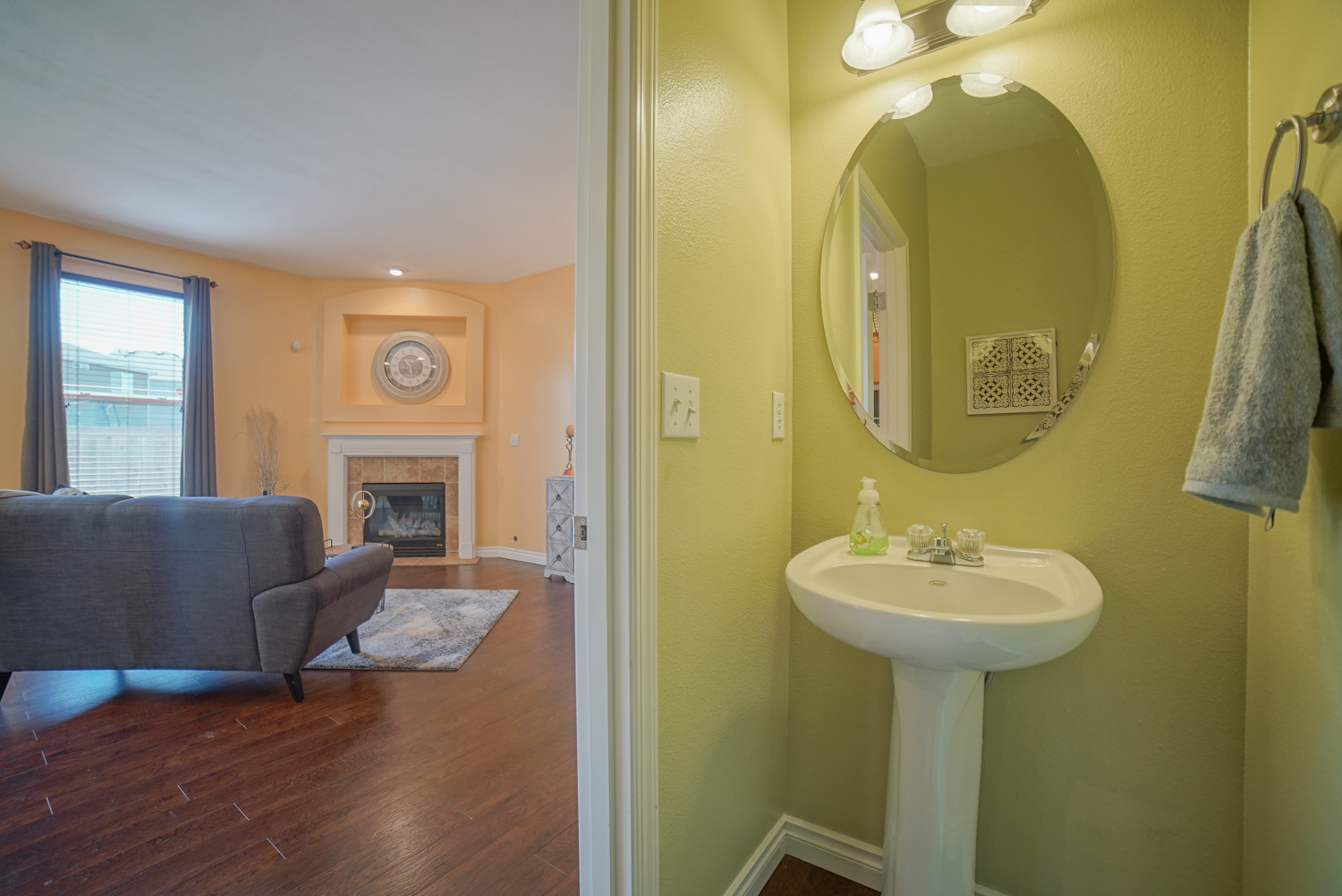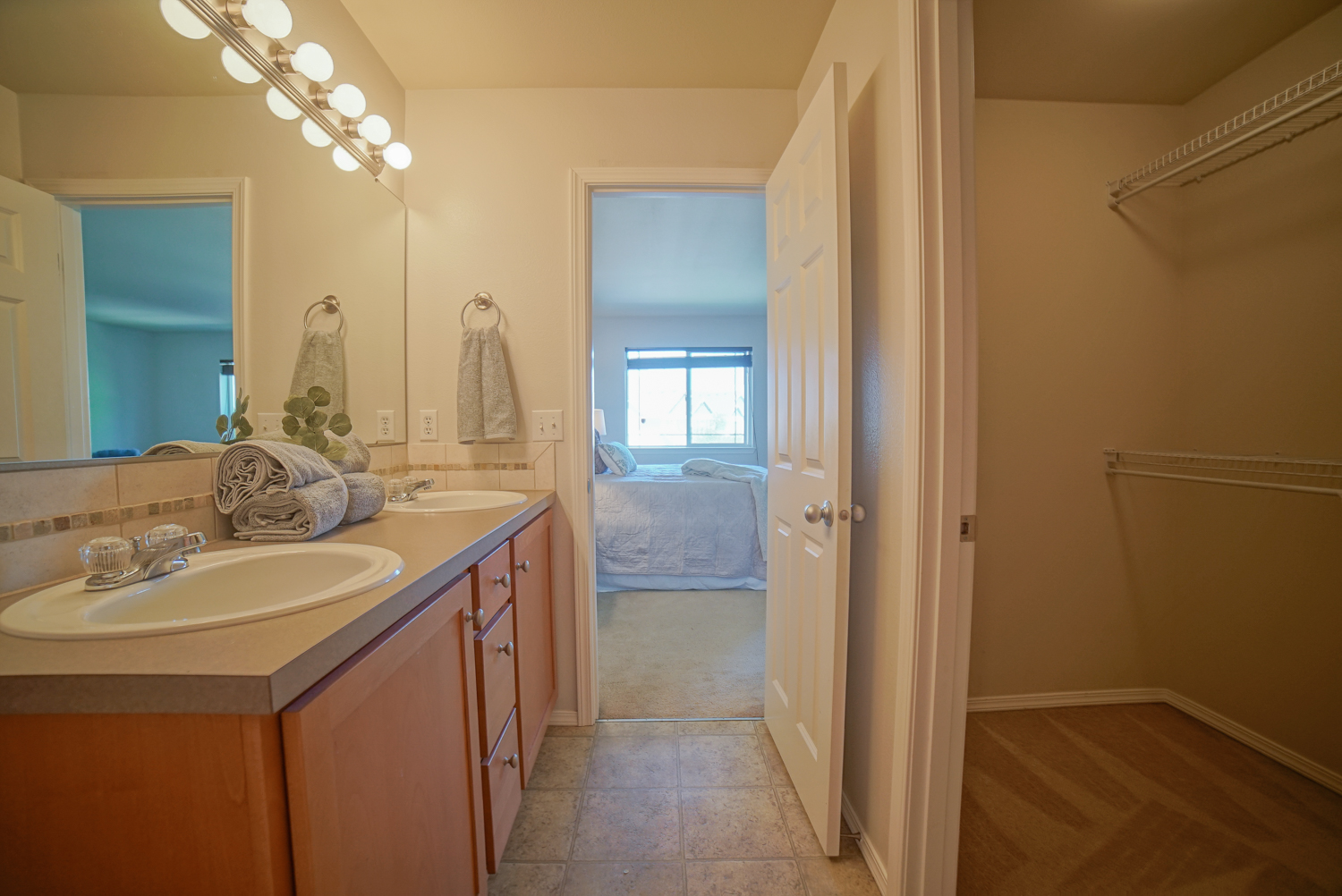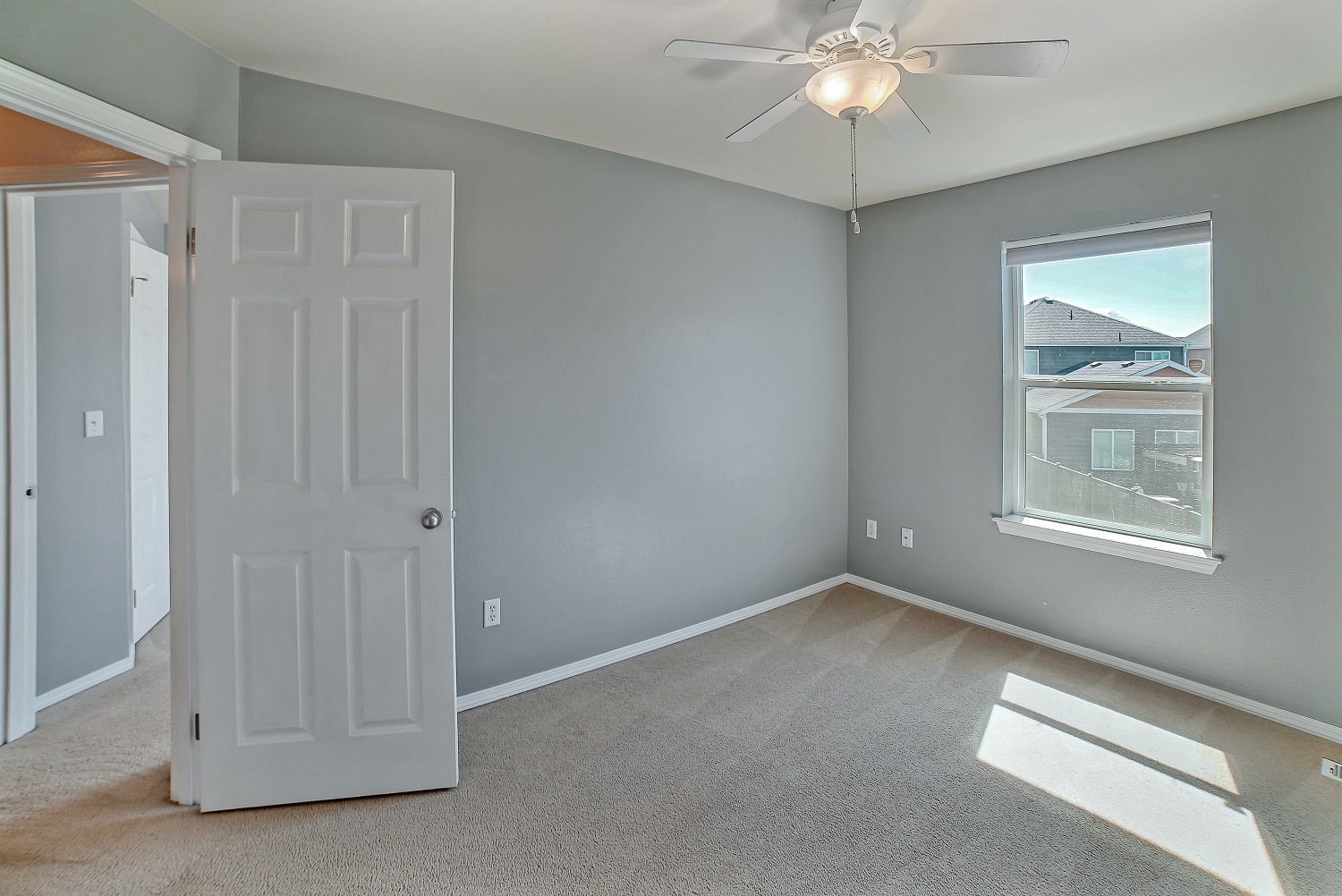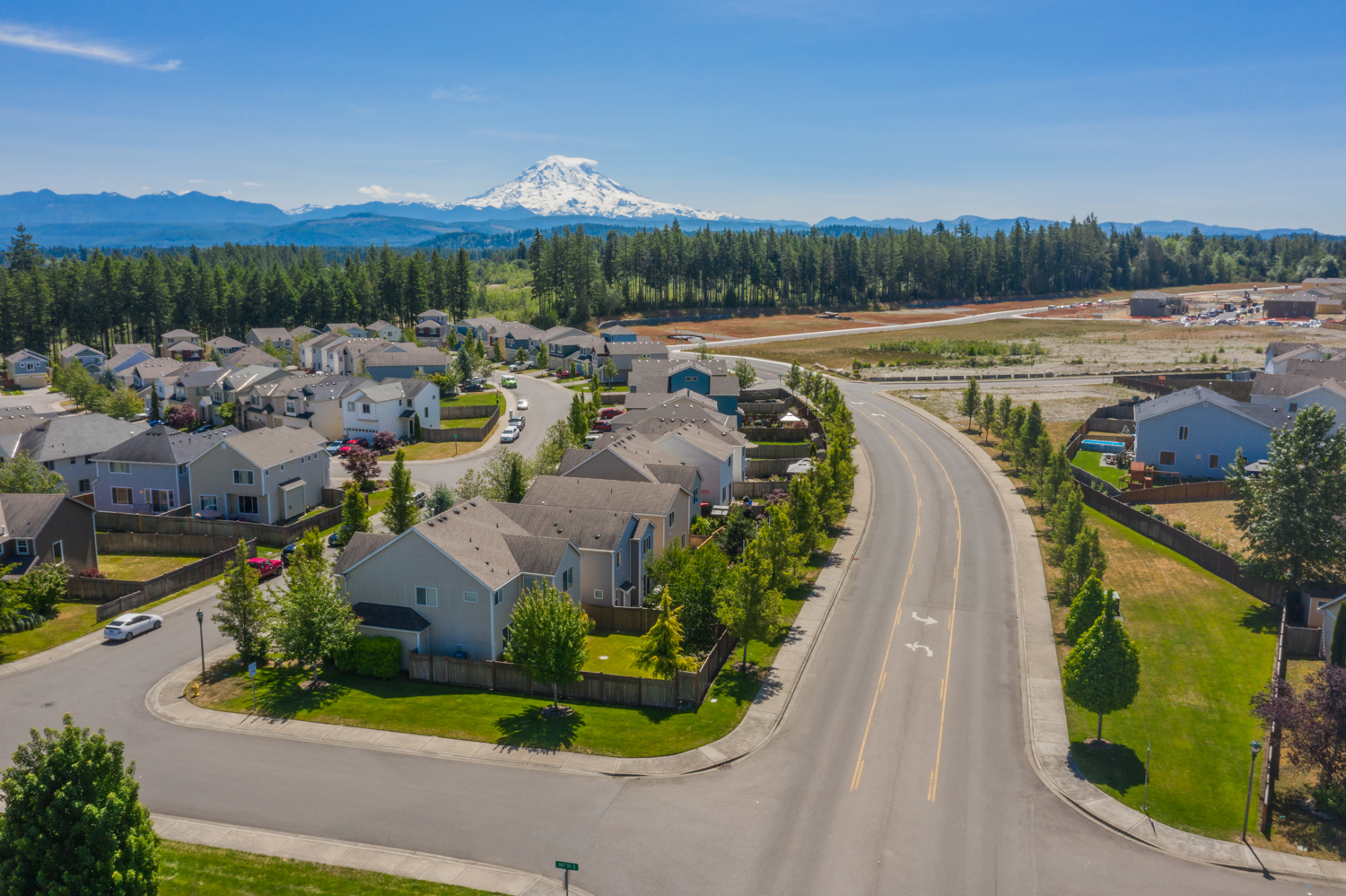 This lovely, well-kept home in the Puyallup community of Lipoma Firs, features easy entertainment with an open floor plan that flows nicely into your fully fenced back yard. Gorgeous flooring, stainless steel appliances, and the charming fireplace will catch your eye. Upstairs, you will find the oversized master bedroom complete with en suite bath and walk-in closet. Don't forget the immaculate view of Mt. Rainier while turning down the road to your new home. Take a peek at the video tour!
3 bedrooms

2.5 bathrooms

1,524 square feet

2-car attached garage

Offered for $324,500
The seller mentioned that they enjoyed the nearby parks like Clark Park, where their kids and dog could play, plus there's a beautiful two mile hiking trail with gorgeous scenery. They also loved being close to shopping, entertainment and restaurants; their personal favorite is the Flying Tomato Bar and Grill – here you'll find a wide variety of items on the menu, like crab stuffed mushrooms, pizzas with ample toppings, a three pasta bowl for those who can't decide, buffalo chicken salad, wings plus a variety of drinks, and giant projector screen to enjoy your favorite sports games being played!
9 miles away is Clark Creek Park – a city park edged by a creek, with playgrounds, tennis courts, a softball field, a dog park, picnic shelters (can be rented), benches and a restroom. There's also a 5.5 mile long loop that links six Puyallup parks together with a soft-surface hiking trail.  
8 minutes to Sunrise Village a newer, open-air center that offers shopping, dining, beauty and a fitness center in Puyallup's South Hill. Here you'll find MOD Pizza, Trapper's Sushi, Black Bear Diner, RAM Restaurant and Brewery, Menchie's, Target, Hand & Stone Massage and Facial Spa, Famous Footwear, Party City, LA Fitness and so much more!
You can find popular retail chain Kohl's less than 2 miles away. Get clothing, shoes, bedding, kitchen items, toys and more!
If you require more than what's offered close by, there are plenty of other dining and shops offered on Meridian Rd and the South Hill Mall is just another 16 minute drive where they have – a Regal Cinemas, Macy's, Dick's Sporting Goods, DSW, and hundreds of other stores.
There are 2 grocery stores within a 6 minute radius to choose from. Get great prices on groceries and bulk foods at Winco, less than 2 miles away. Save in bulk on herbs, all your baking needs (perfect for the holidays!), beans, dried pasta, nuts, trail mix, granola and dried fruits that you can't normally find in other grocery stores like dried kiwi. They also have incredibly large selection of bulk candy too, which is perfect for parties. Fred Meyer is across the road for home decor, pharmacy and more.
Get ready for the Summer Fair at the Washington State Fairgrounds, or as we like to say, "Do the Puyallup!" The Washington State Fair runs from August 30th – September 22nd – The 2019 concert and comedy line up is already in full swing with Billy Idol, Keith Urban, Weezer, The Beach Boys, Eli Young Band, Boyz II Men & 98 Degrees, Ciara, Hall & Oates, Foreigner, comedians, bull riding and more. The Rodeo is also a huge hit for fair goers. Don't miss out on all things fair like the rides, free music and shows, all the show animals, arts and culture, the 700 shopping vendors and all the fair food you can eat. It's customary for patrons to take a bag of Fair Scones home – just 8 miles away.
Call or text Kaitlyn Marty at 253-678-2449 for more info on this listing or a private showing.
Posted on June 13, 2019 at 11:24 pm
Kaitlyn Marty
|
Category:
Listings
|
Tagged

2.5 bathrooms, 3 bedroom, agent, buying a home, buying a house, finding a home, finding an agent, fully fenced back yard, home, home for sale, home owner, home search, house, house for sale, just listed, Pacific Northwest, pierce county, PNW, property search, Puyallup, real estate, real estate agent, realtor, washington, windermere, windermere abode, zillow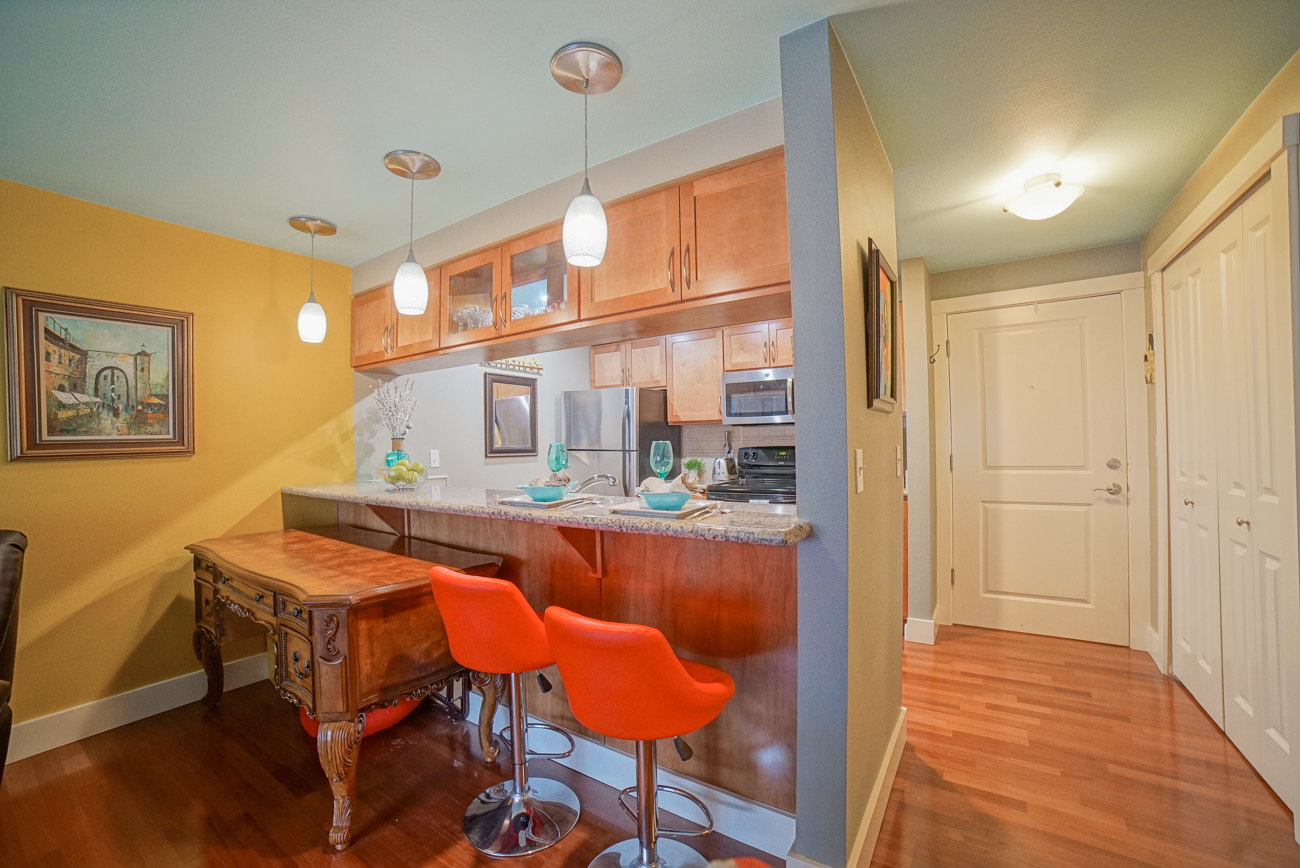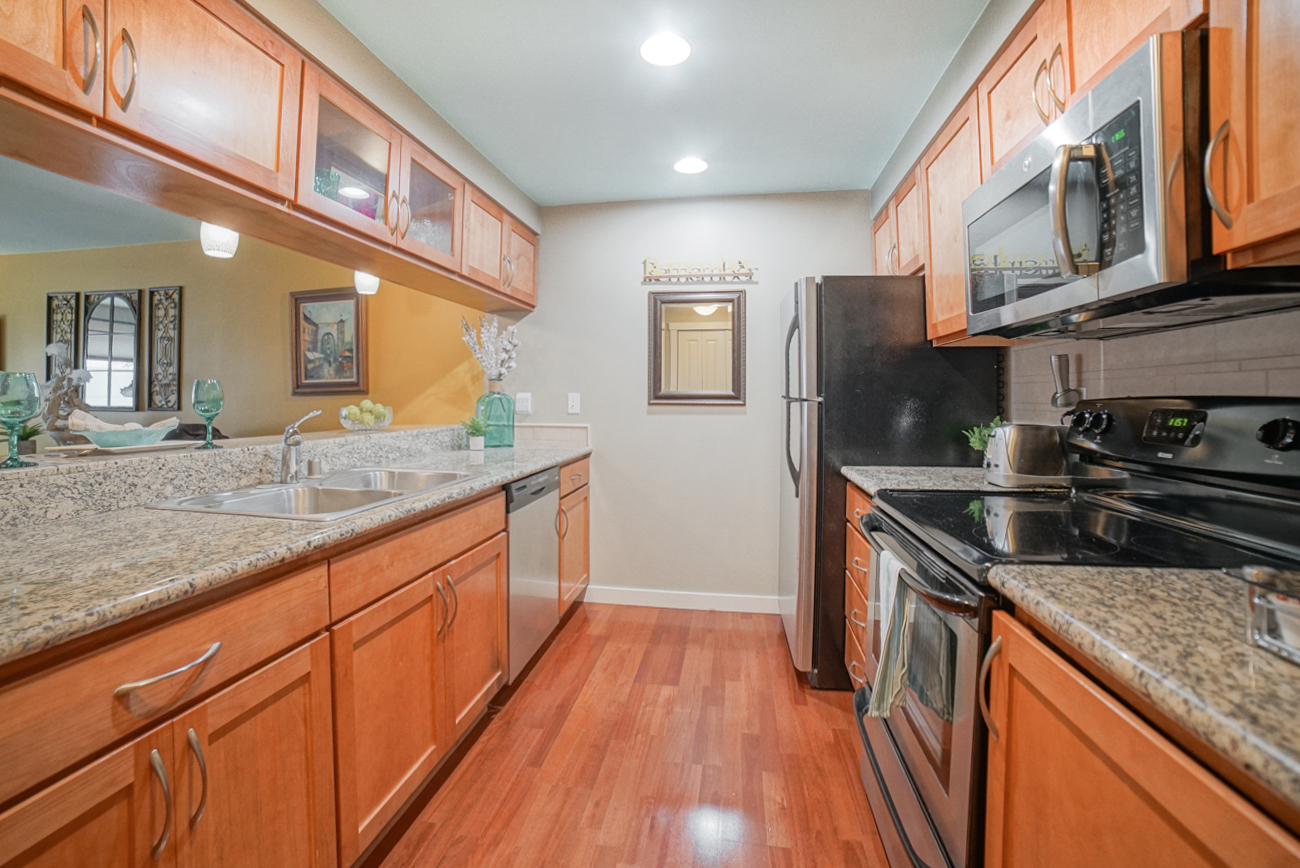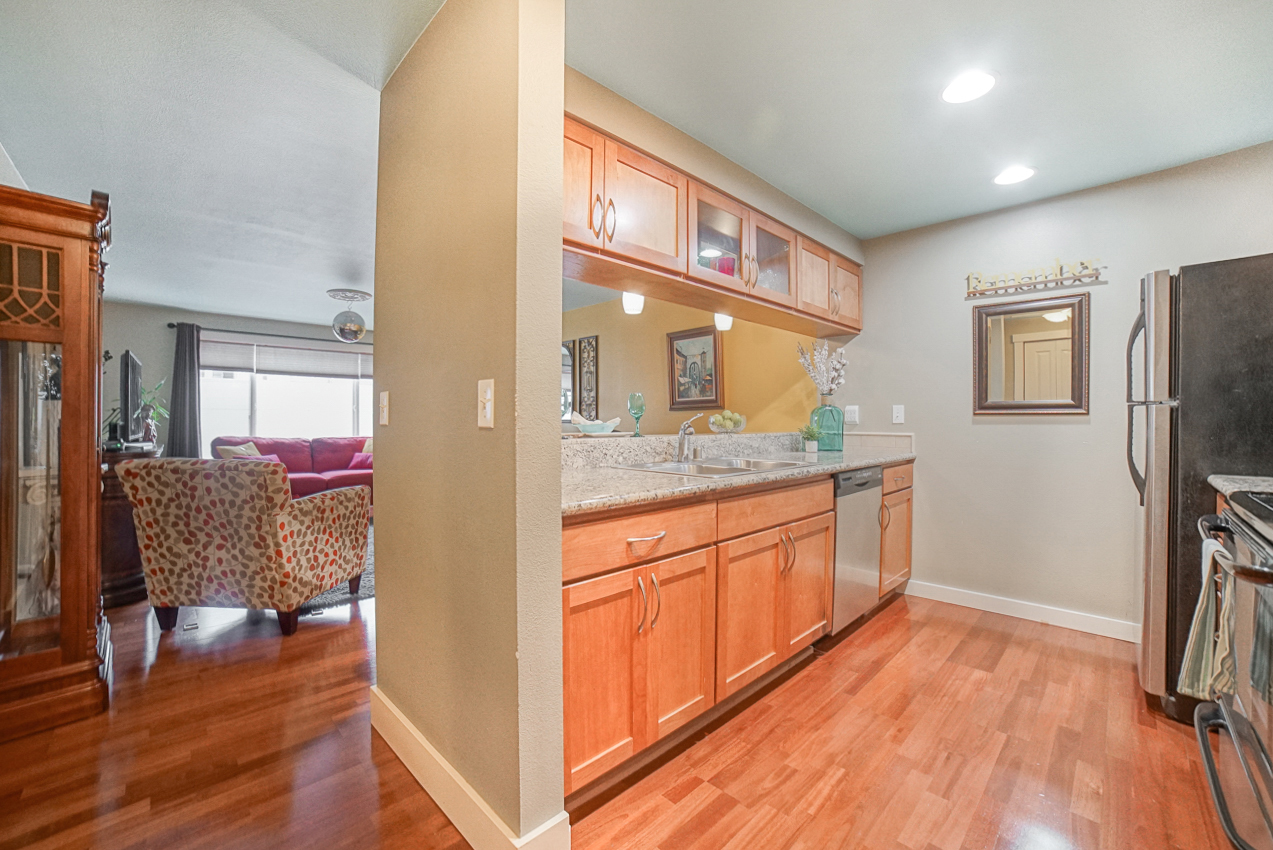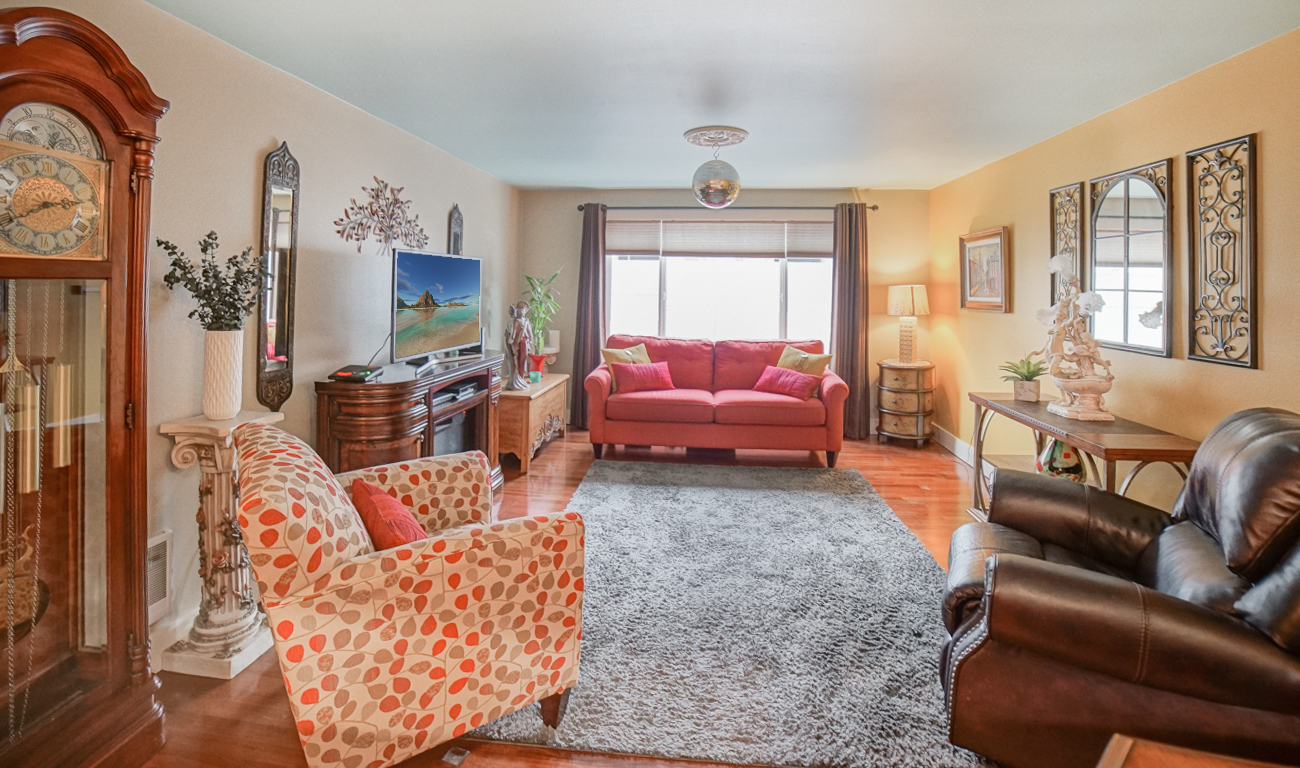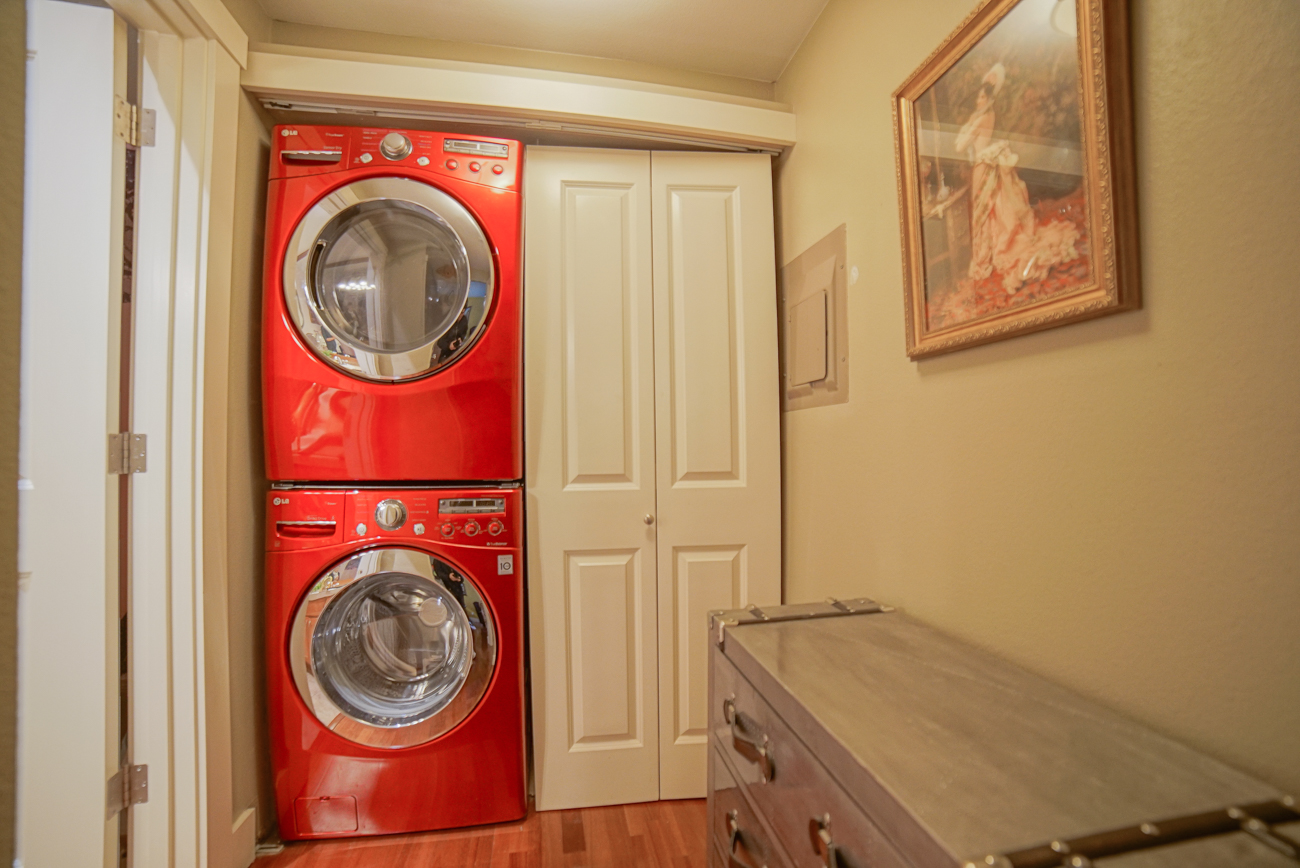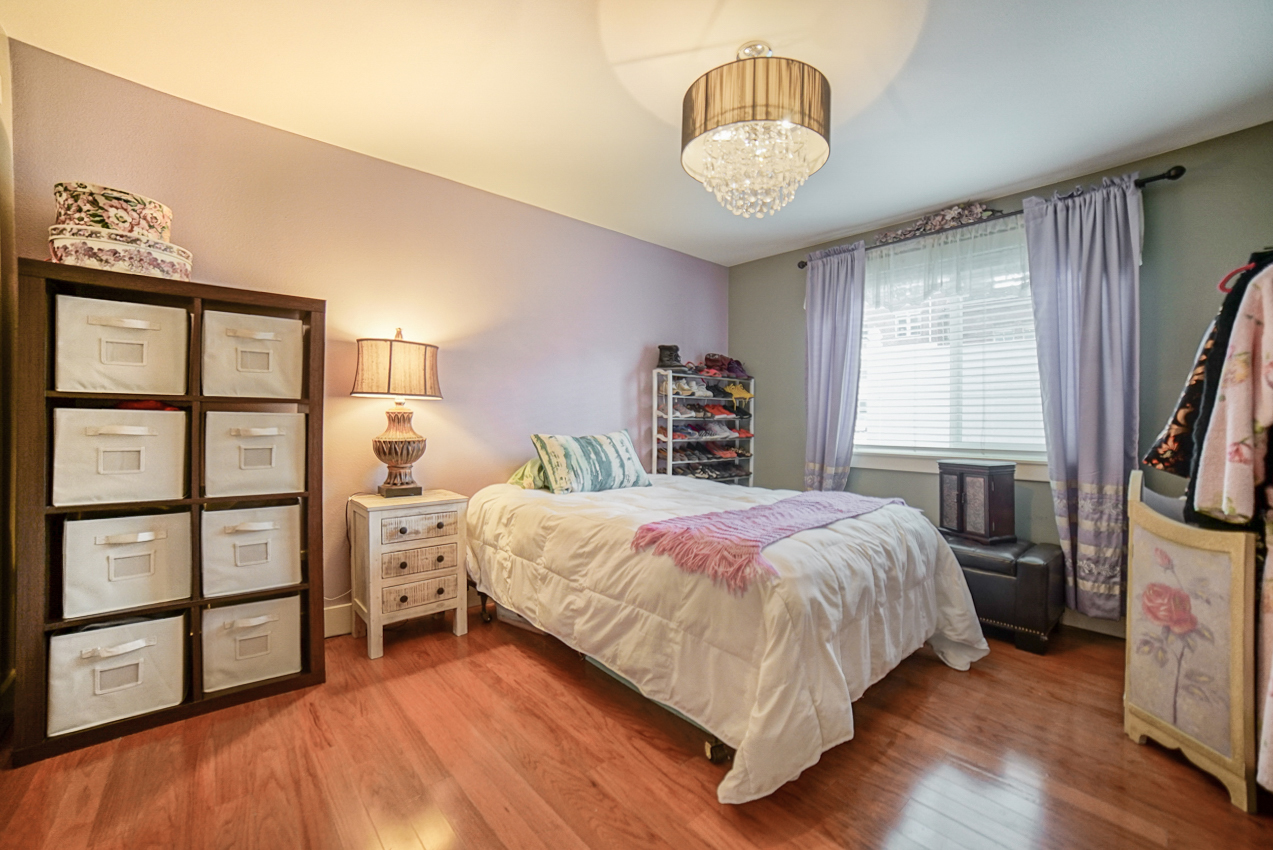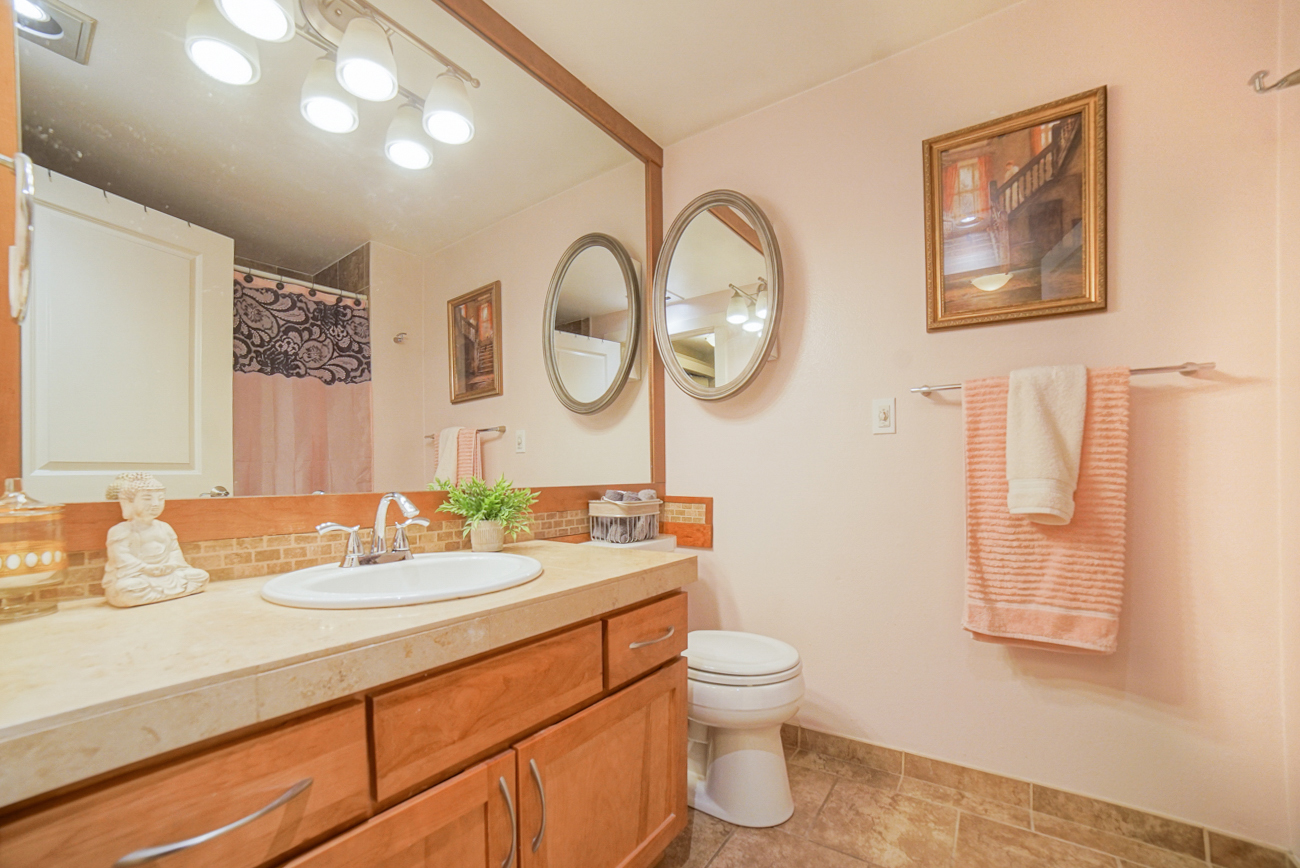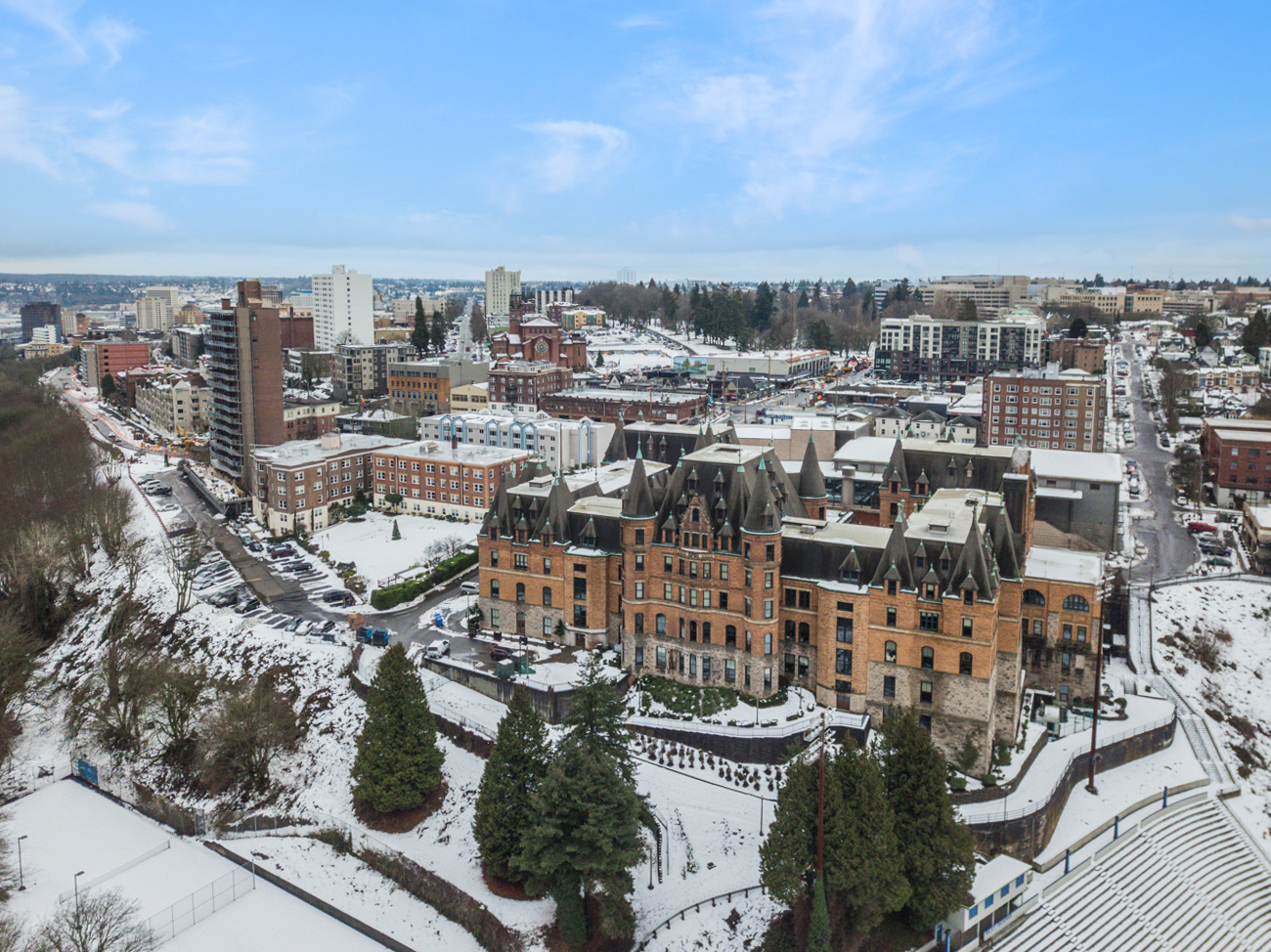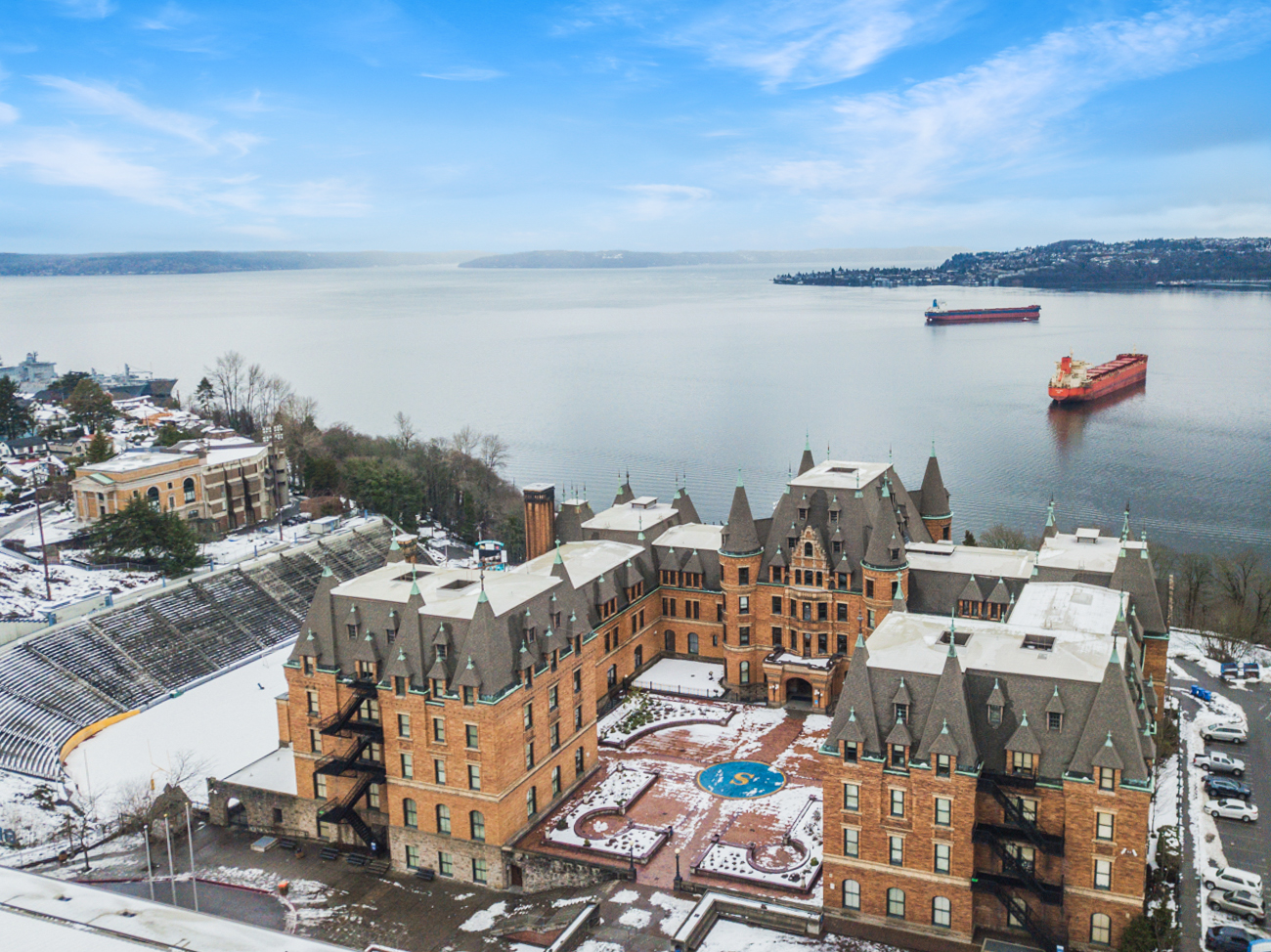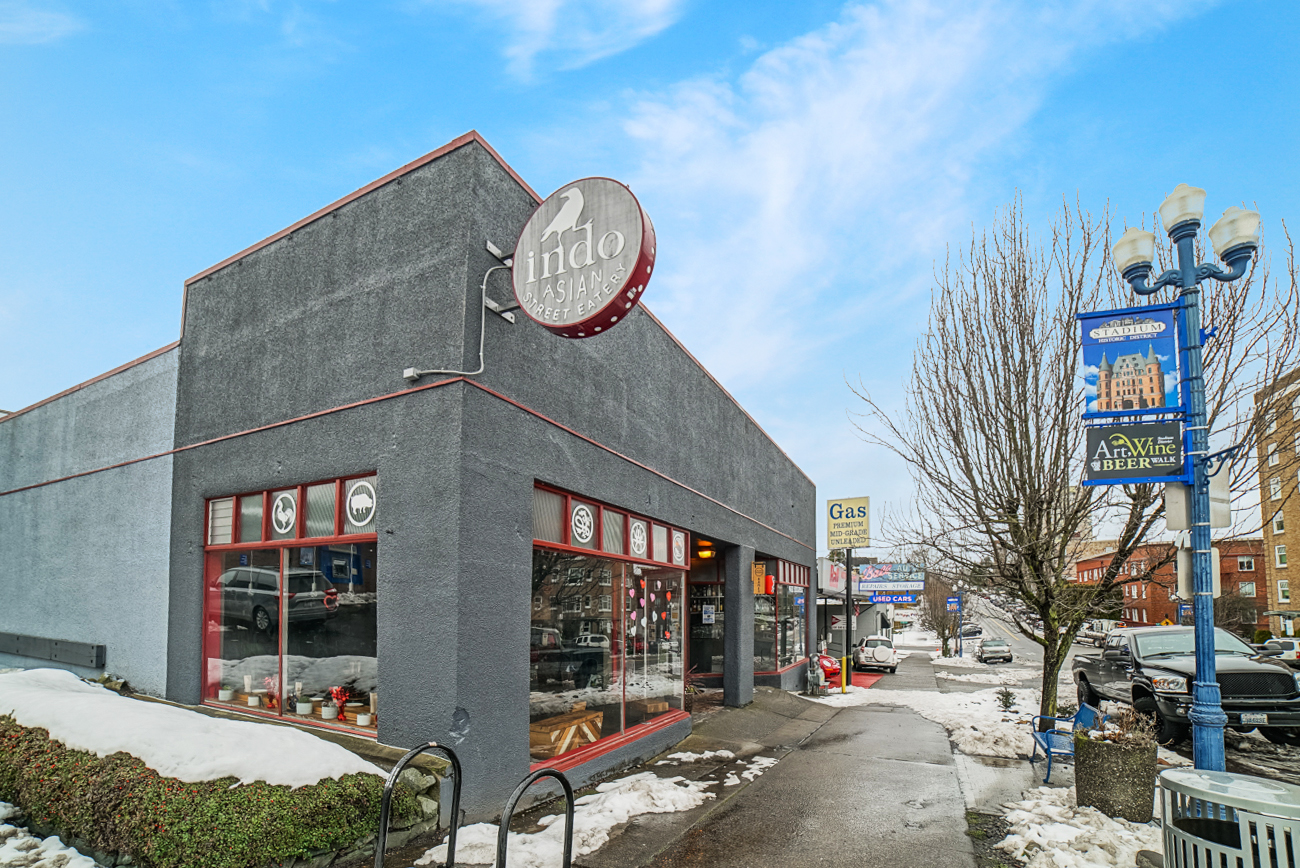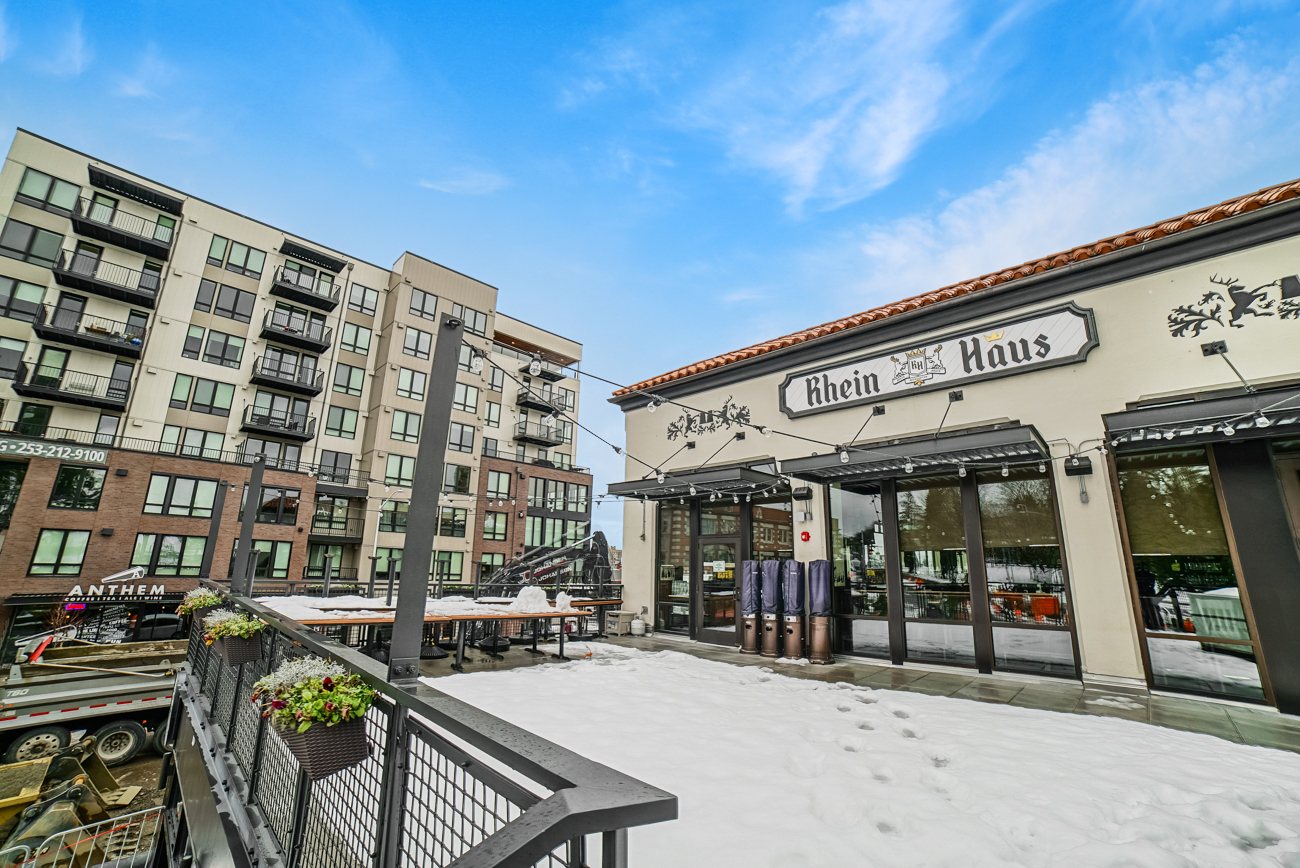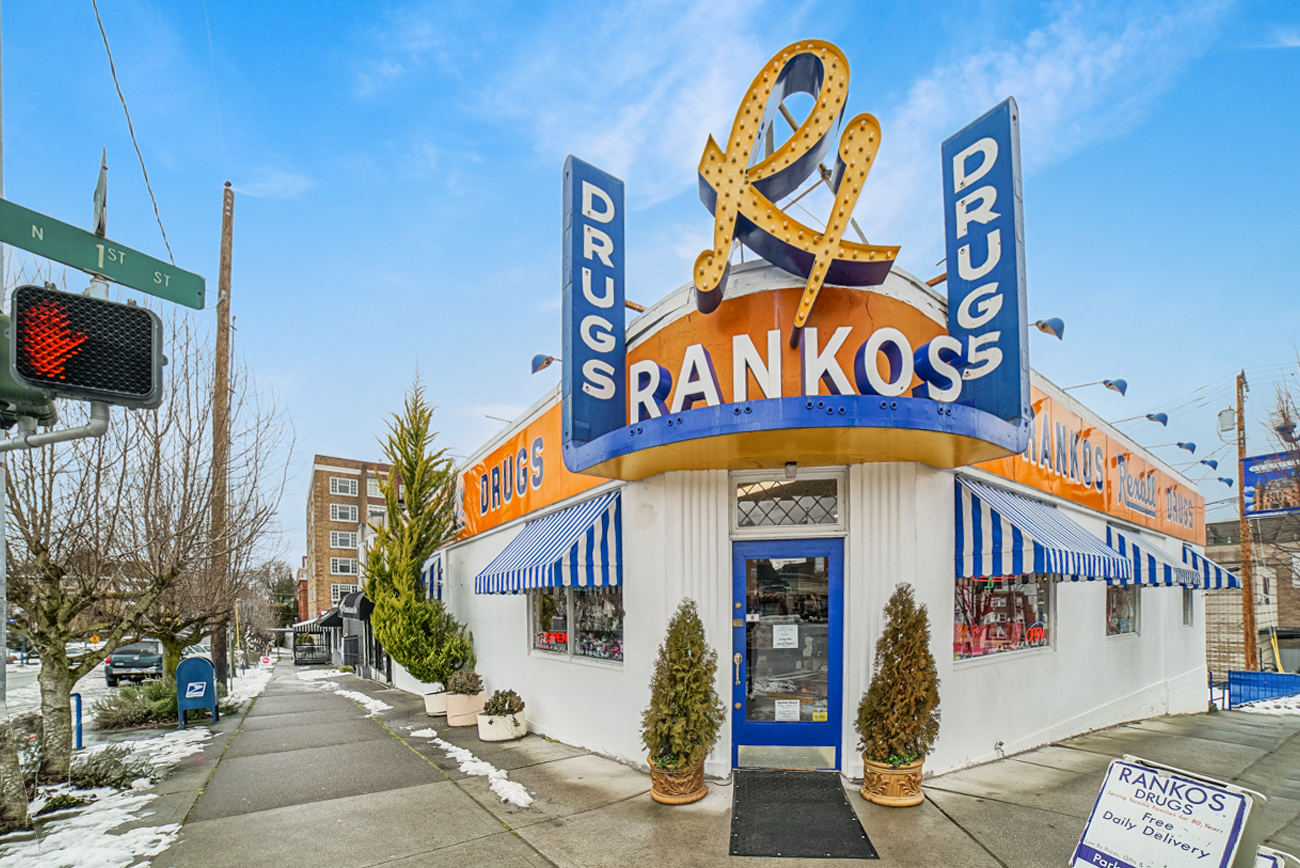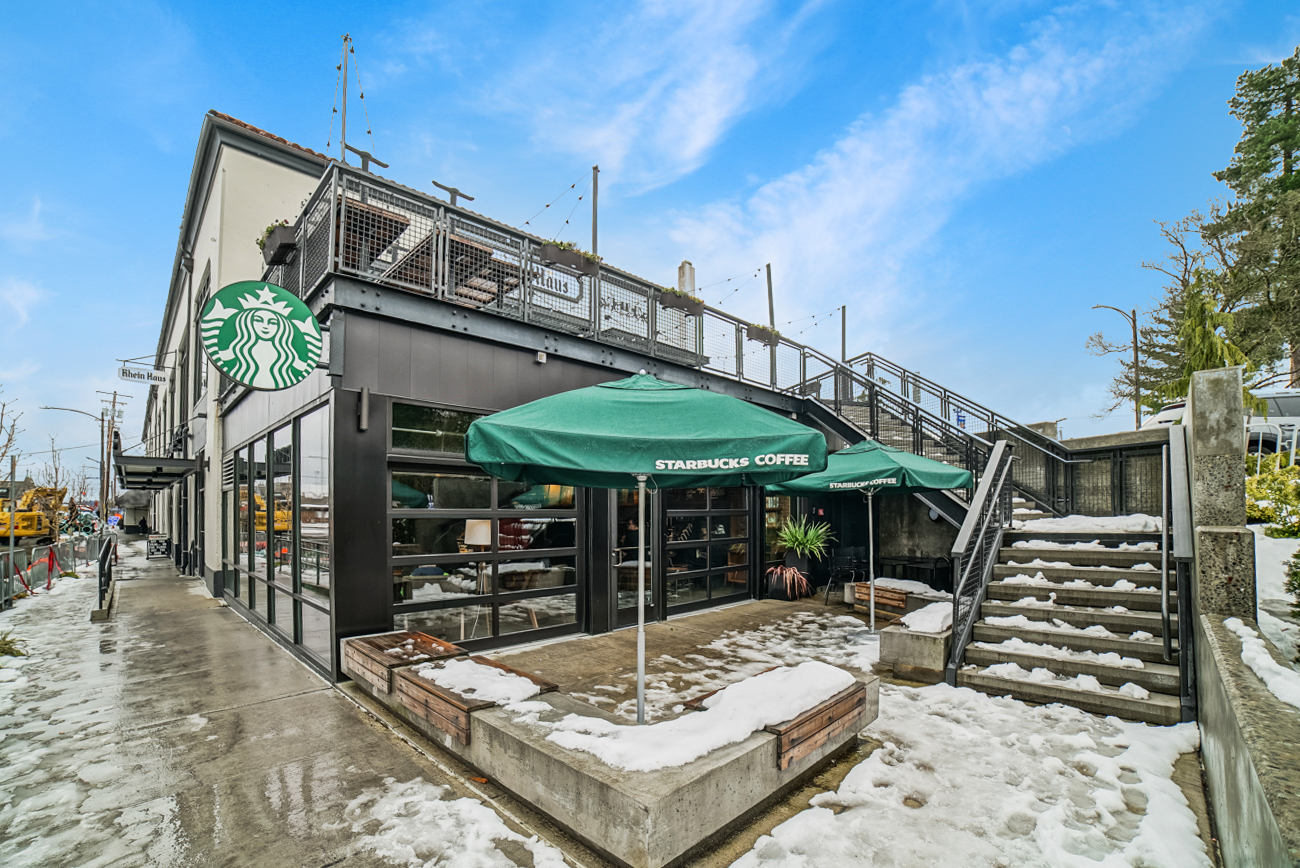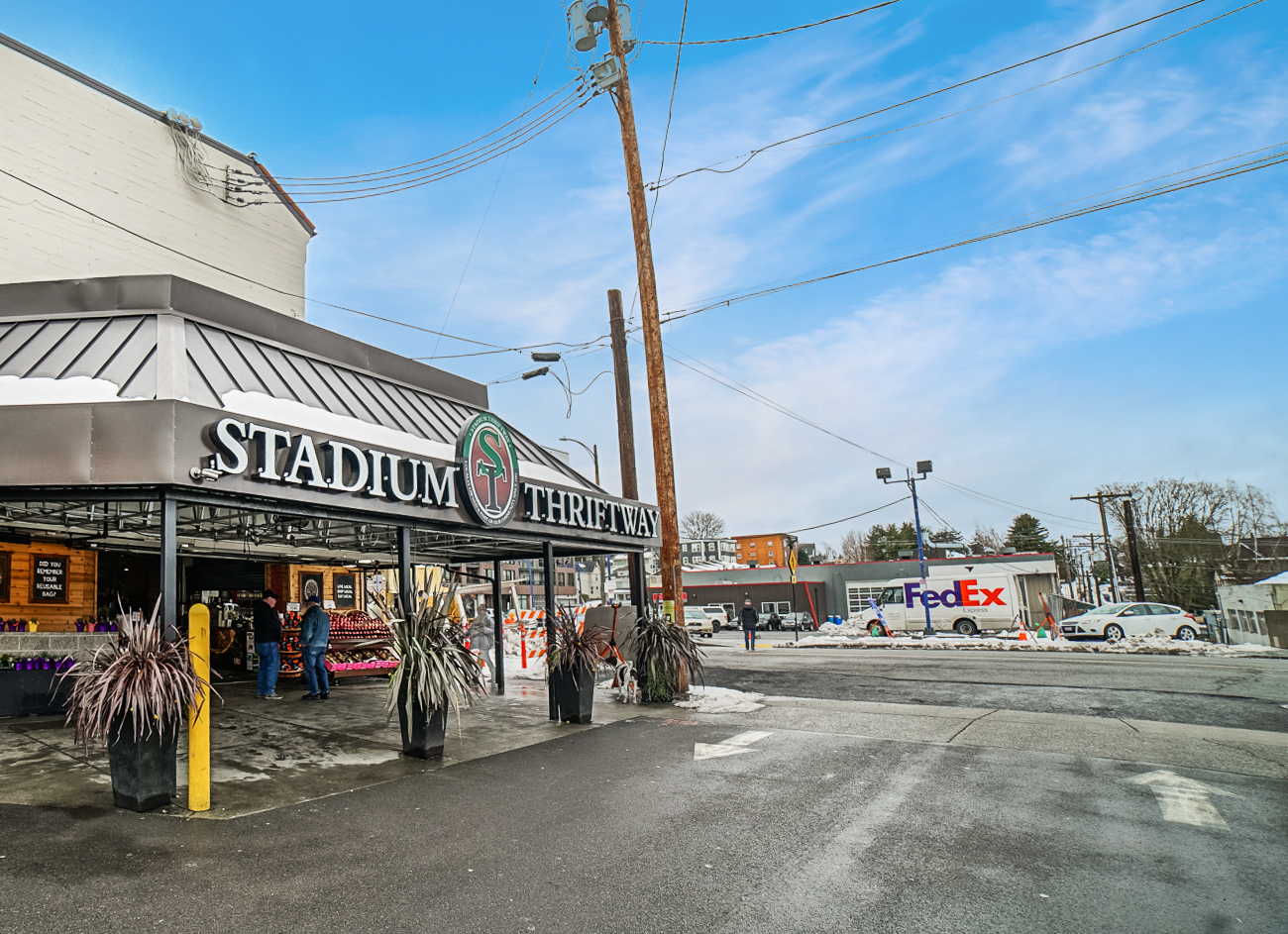 This beauty is located in the highly sought-after area of Stadium District! Within minutes of excellent shopping and entertainment, such as Stadium Thriftway, Indo, Wright Park, Rhein Haus, bus routes, and much more- A commuter's dream! This secure, ground-floor unit features gorgeous cherry hardwood floors, slab granite counter tops, stainless steel appliances, a seating bar, sleek scarlet-red washer and dryer, an upfront assigned parking spot, and spacious, private storage! FHA Approved!
1 bedroom

1 bathroom

700 square feet

Off street parking

Ground floor

Offered for $222,500
There's no shortage of greatness about living in this location! Public transportation, endless dining options, easy commute, stunning views of the skyline, social opportunities, entertainment in many forms and the energy that comes from living in downtown Tacoma.
The Theater District Station, a part of the Tacoma Link Light Rail is less than a mile away and is a 1.6-mile light rail line ending at Tacoma Dome Station and is free to ride. The city is currently working on an expansion plan with construction finalizing in 2022. This project will more than double the current length and will reach new destinations like the Old City Hall, the Stadium District, Wright Park and the Hilltop communities. Check here for link updates! If you commute north and want to skip driving you can catch the Sounder Train at the Tacoma Dome Station northbound to Seattle – it's convenient, cheap (about $5 to ride) and less of a hassle than sitting in I-5 traffic for events or commuting!
There's no shortage of places to wine and dine at in this area.The Arthouse Cafe is across the street – serving up breakfast and lunch and a weekend brunch that ends at 3PM. They offer all the classics like eggs benedict, scrambles, frittas, hash, and pancakes. Try the dutch baby with maple curd and candied bacon, or the breakfast pizza with prosciutto, sausage, two cheeses, grilled onions and cage free eggs on top.
Have all your prescriptions sent to Rankos' Stadium Pharmacy, operating since 1929, and you'll never have to go far! They're an independent pharmacy dedicated to providing high quality care and keep prices low.
If you've got a craving for classic old-time American burgers, fries & shakes served in a charming, retro-inspired space, then take a trip to Shake Shake Shake. Home of the famous Tiger Shake swirling with almond roca and salted caramel – named after the Stadium High School's mascot. And if you're looking for a little extra pep, you can get a boozy version called The Drunken Tiger.
Some other great places to grab a bite to eat or a good cocktail or craft beer is The Copper Door, a low-key hub with rotating taps, board games and their farm-to-table kitchen nibbles. The Harvester Restaurant, a diner serving old-fashioned breakfast & dinner. Indo Asian Street Eatery a hip, rustic-chic spot for Southeast Asian fare ranging from dumplings & curry to pad Thai & banh mi. Rhein Haus a light-filled, lodge-style restaurant with a stone fireplace & boccie courts for German fare & beer – they have a wicked good weekend brunch too!
Looking to get outdoors in the fresh and open air for a while? Lucky for you Wright Park is less than a mile walk. Enjoy a leisurely stroll around this 27 acre park, surrounded by 600 robustious trees. It's a wonderful place to slow down to and gather one's thoughts, read a book or have a picnic and enjoy the beams of sunlight peeking through, warming your skin.
Also just a couple blocks away is Anthem Coffee, Starbucks and the North Slope Coffee House, Stadium Thriftway for groceries, Morrell's Dry Cleaners, La Bella Nail Spa, Mud Bay, and Orangetheory Fitness.
Call or text Kaitlyn Marty for more information on this listing at 253-678-2449
Posted on February 15, 2019 at 11:45 pm
Kaitlyn Marty
|
Category:
Listings
|
Tagged

1 bedroom, buying a home, condo, finding a home, finding an agent, home for sale, home search, house for sale, just listed, realtor, stadium district, tacoma, windermere, windermere abode
Even though shopping for your home is one of the best parts of the process, it can sometimes get a little out of hand and feel a bit overwhelming. At times, home buyers will have too many "Wants" on their list, and then have a difficult time compromising when they don't find their dream house meeting ALL of the criteria.
It's important to go over your pros and cons list with your Realtor before even beginning to look for a house. This way, your Realtor will be able to help you narrow down what's most important and available in your price range. They will also know to steer clear of any homes with your absolute "Nopes!"- Perhaps near a noisy train track, ugh…
Aaron and I discuss tips and tricks when searching for that perfect dream home. What's your Must-Have or Deal Breaker in a home? Comment below!
Posted on February 7, 2019 at 11:21 pm
Kaitlyn Marty
|
Category:
Questions Answered with RE Minute
|
Tagged

buying a home, finding a home, finding an agent, home search, Pacific Northwest, PNW, property search, real estate, real estate questions, realtor, tacoma, Tips and tricks